Add Your Heading Text Here
Add Your Heading Text Here
In today's fast-paced industrial landscape, efficiency and productivity are key factors for businesses to stay competitive. Automated material handling solutions have emerged as a game-changer, revolutionizing the way goods are transported, sorted, and stored in warehouses and manufacturing facilities. We will delve into the world of automated material handling solutions, exploring their benefits, implementation, and future prospects. Order the products your company requires,
Contact Sharp Engineering at
For more information on any of our high quality products and Get Quotes within hours.
What is an automated material handling system?
Automated material handling solutions encompass a range of technologies and systems designed that includes Packaging Machines, Conveyor and Material Handling Systems to streamline and optimize the movement of goods within industrial settings. By automating repetitive and labour-intensive tasks, businesses can achieve higher operational efficiency, reduce costs, and enhance workplace safety.
Automated material handling involves the use of various technologies and equipment to perform tasks such as material transportation, sorting, stacking, and retrieval. These systems utilize advanced sensors, actuators, and control systems to execute operations with precision and accuracy. Automated material handling systems are designed to minimize human intervention, increase throughput, and minimize errors or accidents.
Types of Automated Material Handling Systems
Some automated material handling systems examples include:
Packaging Machines

: These machines automate the packaging process by automatically filling, sealing, labelling, and palletizing products. They can handle various packaging materials such as boxes, bags, or cartons, and are commonly used in industries like food processing, pharmaceuticals, and e-commerce.

Conveyor Systems

: Conveyor systems are used to transport materials or products from one location to another. These

automated material handling and storage systems

consist of a series of belts, rollers, or other types of surfaces that move items along a predetermined path. Conveyor systems can be found in industries such as manufacturing, distribution, and warehousing.

Material Handling Solution

: Material Handling Solution are used to lift and move heavy materials or products within a facility. This

semi-automated material handling system

can be programmed to perform precise movements and are commonly used in industries such as manufacturing, construction, and logistics.
Add Your Heading Text Here
For Technical Parameters / Specifications, please Download Technical PDF
Benefits of Automated Material Handling Solutions
Scalability and Adaptability

: Automated material handling solutions offer scalability and adaptability to accommodate changing business needs. They can be easily reconfigured or expanded to meet evolving requirements, allowing businesses to scale their operations efficiently.

Increased Efficiency and Productivity

: Automated material handling solutions eliminate manual tasks and streamline processes, resulting in increased efficiency and productivity. With faster and more accurate operations, businesses can handle larger volumes of goods and meet customer demands promptly.

Enhanced Safety

: By reducing human involvement in hazardous tasks, automated material handling solutions improve workplace safety. The risk of accidents and injuries is minimized, leading to a safer working environment for employees.

Cost Savings

: Although the initial investment for implementing automated material handling systems can be substantial, businesses can achieve long-term cost savings. Automated systems reduce labour costs, minimize errors, optimize space utilization, and decrease the risk of product damage.
Implementing Automated Material Handling Solutions
Successful implementation of automated material handling solutions involves careful planning and execution. Here are the key steps:
Assessing Needs and Goals:

Before implementing automated material handling systems, businesses should assess their specific needs and goals. This includes evaluating current workflows, identifying bottlenecks, and understanding the desired outcomes.

System Design and Integration:

Once the needs are identified, the next step is designing the system architecture and integrating it with existing infrastructure. This involves selecting the appropriate technologies, equipment, and software that align with the business requirements.

Training and Workforce Adaptation:

When introducing automated material handling solutions, it is crucial to provide adequate training to employees. This ensures they are familiar with the new systems and can operate them effectively. Workforce adaptation may involve reassigning roles, updating job descriptions, and fostering a culture of automation.
Challenges and Considerations
Compatibility and Versatility:
Ensuring compatibility of material handling equipment with various products and packaging materials.


Adapting the equipment to handle different product sizes, shapes, and weights effectively.

Efficiency and Throughput:
Optimizing the speed and throughput of material handling processes to meet production demands.


Implementing efficient workflows and minimizing bottlenecks for smooth operations.

Maintenance and Downtime:
Conducting regular maintenance and inspections to prevent breakdowns and minimize downtime.


Having troubleshooting procedures in place to address any equipment malfunctions promptly.

Integration and Workflow Design:
Coordinating material handling equipment with other production machinery for seamless operations.


Designing efficient layouts and workflows to optimize material flow and minimize handling time.

Flexibility and Scalability:
Incorporating adjustable features and adaptable configurations to accommodate changing production requirements.


Planning for future growth and scalability to handle increased production volumes.

Automation and Control Systems:
Implementing automation and control systems to optimize material flow, detect issues, and enhance efficiency.


Integrating sensors and feedback mechanisms for real-time monitoring and process optimization.

Safety and Ergonomics:
Prioritizing worker safety by incorporating safety features and protocols in material handling systems.


Designing ergonomic workstations and layouts to minimize the risk of injuries and strains.

Training and Operator Skill:
Providing comprehensive training to operators on the operation, maintenance, and troubleshooting of material handling equipment.


Ensuring operators are well-equipped to handle any challenges and maximize the efficiency of the system.
By addressing these challenges and considerations, organizations can optimize their material handling solutions, including packaging machines and conveyor systems, for efficient and effective operations.
Let Sharp Engineering Help You Find the Best Automated Material Handling Solution for Your Requirements
Managing a warehouse involves multiple components, each with its own considerations. Striking the right balance between manual and automated handling systems can be challenging. However, Sharp Engineering is here to assist you. We provide a diverse range of automated material handling solutions, such as packaging machines, conveyor systems, and comprehensive material handling solutions, all tailored to your specific budget and requirements. With our support, you can enhance your warehouse operations and drive improved financial outcomes.
To learn more about our automated material handling systems or to arrange a consultation, please don't hesitate to reach out to us today!
FAQs (Frequently Asked Questions)
Are automated material handling solutions suitable for small businesses?
Yes, automated material handling solutions can benefit businesses of all sizes. While the scale and complexity may vary, small businesses can leverage automation to streamline their operations, improve productivity, and stay competitive.
How long does it take to implement an automated material handling system?
The implementation timeline for an automated material handling system depends on various factors, such as system complexity, customization requirements, and integration with existing infrastructure. It can range from a few weeks to several months.
Can automated material handling solutions be customized for specific industries?
Absolutely! Automated material handling solutions can be tailored to suit specific industry requirements. Whether it's e-commerce, manufacturing, or logistics, customized systems can optimize workflows and address unique challenges.
What are the key considerations when choosing an automated material handling system?
When selecting an automated material handling system, businesses should consider factors such as scalability, compatibility with existing infrastructure, reliability, maintenance requirements, and the provider's track record in the industry.
What kind of training is required for employees to work with automated material handling systems?
Employees may require training on operating the specific automated material handling systems implemented in their workplace. Training programs should cover topics such as system controls, safety procedures, maintenance protocols, and troubleshooting. Additionally, employees may need to learn how to collaborate effectively with the automated systems.
Can automated material handling systems handle different types of products or materials?
Yes, automated material handling systems are designed to handle a wide range of products and materials. They can accommodate varying sizes, shapes, weights, and fragility levels. Whether it's small components, pallets, boxes, or specialized items, automated systems can be customized to meet specific requirements.
What measures are in place to ensure system reliability and minimize downtime?
Automated material handling systems employ various measures to ensure system reliability and minimize downtime. These include regular maintenance schedules, proactive monitoring, predictive maintenance technologies, and redundancy systems. Additionally, system providers often offer technical support and emergency response services to address any issues promptly.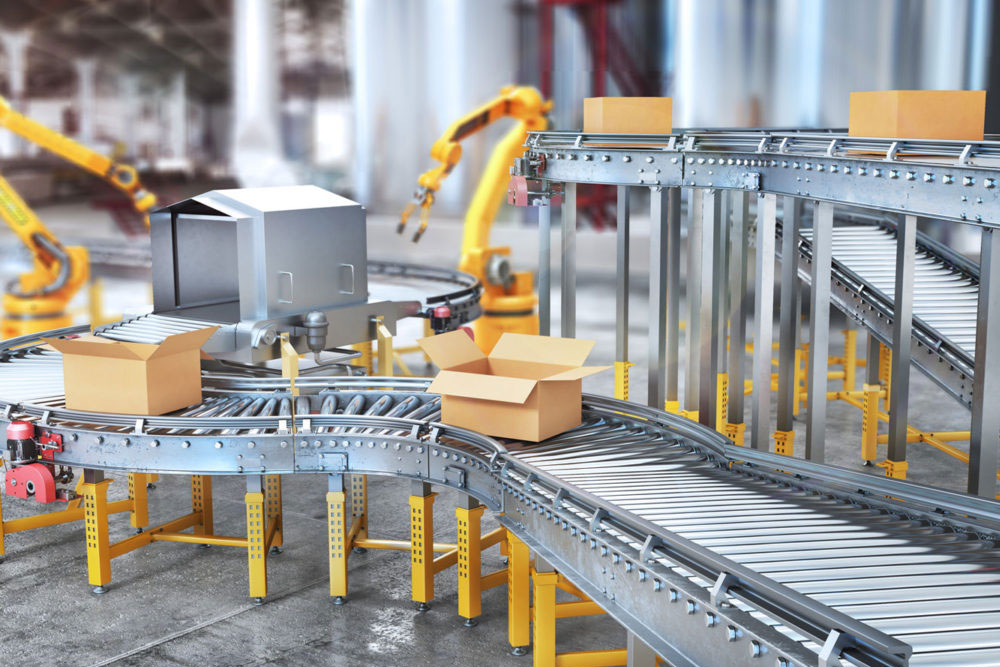 Since 1996, Sharp Engineering has become one of the most trusted and quality-driven manufacturers, exporters and suppliers of Packaging Machines, Material Handling Equipment, Belt Conveyors, Chain Conveyors, and Roller Conveyors.
Add Your Heading Text Here
Market Area of Sharp Engineering
Add Your Heading Text Here
Sharp Engineering supplying to these Indian Cities.
Mumbai| Pune |Ahmedabad| Bengaluru| Chennai| Delhi| Kolkata| Hyderabad| Agra| Ajmer| Aligarh| Amravati| Amritsar| Asansol| Aurangabad| Bareilly| Belgaum| Bhavnagar| Bhiwandi| Bhopal| Bhubaneswar| Bikaner| Bilaspur| Bokaro Steel City| Chandigarh| Coimbatore| Cuttack| Dehradun| Dhanbad| Bhilai| Durgapur| Erode| Faridabad| Firozabad| Ghaziabad| Gorakhpur| Gulbarga| Guntur| Gwalior| Gurugram| Guwahati| Hamirpur| Hubli–Dharwad| Indore| Jabalpur| Jaipur| Jalandhar| Jalgaon| Jammu| Jamnagar| Jamshedpur| Jhansi| Jodhpur| Kakinada| Kannur| Kanpur| Karnal| Kochi| Kolhapur| Kollam| Kozhikode| Kurnool| Ludhiana| Lucknow| Madurai| Malappuram| Mathura| Mangalore| Meerut| Moradabad| Mysore| Nagpur| Nanded| Nashik| Nellore| Noida| Patna| Puducherry| Purulia| Prayagraj| Raipur| Rajkot| Rajamahendravaram| Ranchi| Rourkela| Ratlam| Salem| Sangli| Shimla| Siliguri| Solapur| Srinagar| Surat| Thanjavur| Thiruvananthapuram| Thrissur| Tiruchirappalli| Tirunelveli| Tiruvannamalai| Ujjain| Vijayapura| Vadodara| Varanasi| Vasai-Virar City| Vijayawada| Visakhapatnam| Vellore| Warangal
Sharp Engineering supplying to these locations across the world :
African Countries
South Africa , Nigeria, Kenya, Ghana, Ethiopia, Tanzania, Johannesburg, Algeria, Angola, Benin, Botswana, Burkina Faso, Burundi, Cabo Verde, Cameroon, Central African Republic (CAR), Chad, Comoros, Democratic Republic of the Congo, Côte d'Ivoire, Djibouti, Egypt, Equatorial Guinea, Eritrea, Gabon, Gambia, Guinea, Guinea-Bissau, Lesotho, Liberia, Libya, Madagascar, Malawi, Mali, Mauritania, Mauritius, Morocco, Mozambique, Namibia, Nigeria, Rwanda, Sao Tome and Principe, Senegal, Seychelles, Sierra Leone, Somalia, South Sudan, Sudan, Swaziland, Togo, Tunisia, Uganda, Zambia, Zimbabwe.
Gulf and other Countries
Oman, Qatar, Kuwait, Saudi Arabia, Dubai, Bahrain, Iran, United Arab Emirates, Australia, Sydney, Queensland, Melbourne, Perth, Adelaide, New Zealand, Auckland, Wellington, Hamilton.
Asian Countries
Afghanistan, Armenia, Azerbaijan, Bahrain, Bangladesh, Bhutan, Brunei, Cambodia, China, Cyprus, Georgia, India, Indonesia, Iran, Iraq, Israel, Japan, Jordan, Kazakhstan, Kuwait, Kyrgyzstan, Laos, Lebanon, Malaysia, Maldives, Mongolia, Myanmar (Burma), Nepal, North Korea, Oman, Pakistan, Palestine, Philippines, Qatar, Russia, Saudi Arabia, Singapore, South Korea, Sri Lanka, Syria, Taiwan, Tajikistan, Thailand, Timor-Leste, Turkey, Turkmenistan, Uzbekistan, Vietnam, Yemen
South American Countries
Argentina, Ecuador, Suriname, Bolivia, Brazil, Guyana, Uruguay, Chile, Colombia, Paraguay, Peru, Venezuela
Note: Please note that the information on this document is for illustration purposes only as information may vary with individual products, their grade and applications industries or uses and therefore cannot be guaranteed as accurate. © Copyright 2021 © Sharp Engineering All Rights Reserved (Terms of Use). Recreation of any materials from the site is strictly prohibited without permission. Sharp Engineering' products are sold exclusively through Sharp Engineering' website. Use Terms | Privacy. Please contact us to discuss precise product specifications and requirements and obtain advice on which products are required to suit your exact application needs [email protected]