Add Your Heading Text Here
Add Your Heading Text Here
Mining operations require the movement of large volumes of materials, and one crucial component that facilitates this process is the mine conveyor belt system. These systems play an important role in the mining industry by efficiently transporting various types of minerals and ores across long distances within the mine site. Further below, we will explore the benefits and functionalities of mine conveyor belt systems, their different components, maintenance practices, and their impact on the overall productivity and safety of mining operations. Order the products your company requires,
Contact Sharp Engineering at
For more information on any of our high quality products and Get Quotes within hours.
What is a Conveyor Belt System?
Mining is a complex and demanding industry that relies on efficient and reliable transportation of materials for its operations. Conveyor belt systems have become an essential part of this industry, revolutionizing the way materials are transported within mine sites. Mine conveyor belts utilize a constant loop of belts that move along predefined paths, allowing for the seamless transportation of minerals, ores, and other materials.
Prominence of Conveyor Belt Systems in Mining
Conveyor belt machines offer numerous key advantages that make them essential in mining operations. Initially, they enable the transportation of large quantities of materials over long distances, saving valuable time and reducing the need for manual labour. Furthermore, these systems can navigate through challenging terrains and inclinations, providing a flexible and versatile solution for mining companies.
Add Your Heading Text Here
For Technical Parameters / Specifications, please Download Technical PDF
Components of Mine Conveyor Belt Systems
A typical conveyor belt material consists of various components that work together to ensure smooth and efficient material transportation.
Belt:

The conveyor belt is the core component that carries the materials along the conveyor system. It is made of heavy-duty materials such as rubber or fabric-reinforced polymers, which can withstand the abrasive nature of mining materials while maintaining flexibility.

Drive Unit:

The drive unit helps as the power source for the conveyor belt system. It includes an electric motor, gearbox, and associated control mechanisms, which generate the necessary torque and speed to move the conveyor belts.

Pulleys and Rollers:

Pulleys and rollers guide and support the conveyor belts, ensuring accurate alignment and minimizing friction. These components are designed to endure heavy loads and facilitate smooth movement along the conveyor path.

Support Structures:

Support structures, comprising idlers and frames, provide stability and structural integrity to the conveyor system. They are designed to handle the weight of the conveyor belts and the materials being transported.

Control and Monitoring Systems:

Control and monitoring systems ensure the safe and efficient operation of conveyor belt systems. These systems incorporate sensors, switches, and advanced software that enable real-time monitoring of belt speed, tension, and potential faults.
Advantages of Conveyor Belt Systems in Mining
Mining conveyor belt systems offer numerous benefits that significantly enhance mining operations:
Enhanced Safety:

Conveyor belts contribute to a safer working environment by reducing the risks of accidents and injuries associated with manual material handling. Automated controls and safety features ensure the protection of workers and prevent potential hazards.

Increased Efficiency:

By automating the transportation process, conveyor belt systems eliminate the need for manual handling and reduce the risk of human error. This results in improved operational efficiency, higher throughput, and increased productivity.

Cost Reduction:

They can reduce labour costs associated with material transportation. Conveyor belts require minimal human intervention, allowing mining companies to optimize their workforce and allocate resources to other critical tasks.

Environmental Benefits:

Conveyor belt systems promote sustainable practices in mining operations. They reduce fuel consumption by minimizing the need for heavy-duty vehicles and also contribute to lower greenhouse gas emissions.
Maintenance Practices for Conveyor Belt Systems
Proper maintenance is essential to ensure the longevity and optimal performance of conveyor belt systems. Here are some recommended practices:
Cleaning and Lubrication:

Regular cleaning of the conveyor belts and lubrication of moving parts reduce friction, enhance belt performance, and prevent material build-up. This improves overall efficiency and extends the lifespan of the system.

Regular Inspections:

Scheduled inspections help identify potential issues and prevent major breakdowns. Inspecting belt condition, tracking systems, and overall system integrity can help detect early signs of wear or damage.
Sharp Engineering – Your trusted Supplier for Mine Conveyor Belt Systems
Belt Replacement and Repair:

Timely replacement of worn-out belts and prompt repair of damaged components prevent costly downtime. Monitoring belt condition and addressing issues promptly are crucial for maintaining uninterrupted operations.

Component Alignment:

Maintaining proper alignment of pulleys, rollers, and belts is vital for optimal performance. Misaligned components can cause belt slippage, increased wear, and reduced efficiency.

Training and Education:

Training operators and maintenance personnel on the best practices for conveyor belt system operation and maintenance is essential. Regular education and skill development ensure the efficient handling of the system and promote safety awareness.
Sharp Engineering is a leading mining conveyor belt manufacturers that understands each mining application has unique requirements and challenges. That's why we offer customized solutions to meet your specific needs. Our team of experts will work closely with you to design a conveyor belt system that maximizes efficiency, productivity, and safety for your operations.
In addition to system design and installation, we provide comprehensive maintenance services to ensure the longevity and optimal performance of your conveyor belt system. Our team of skilled technicians is available to perform regular inspections, cleaning, lubrication, and repairs as needed. We also offer training and education programs to empower your staff with the knowledge and skills to operate and maintain the system effectively. When it comes to mine conveyor belt systems, Sharp Engineering is your trusted partner. We have a proven track record of delivering reliable and efficient solutions to the mining industry. 
Contact us today to discuss your requirements and how we can assist you in optimizing your mining operations with our top-notch conveyor belt systems.
FAQs
Are conveyor belt systems suitable for all types of mining operations?
Yes, conveyor belt systems are versatile and can be customized to suit various mining applications, including underground and surface mining.
How long do conveyor belts typically last in mining operations?
The lifespan of a conveyor belt depends on several factors, including material composition, operating conditions, and maintenance practices. On average, conveyor belts can last anywhere from 1 to 10 years.
Can conveyor belt systems handle steep inclines or declines?
Yes, conveyor belt systems are designed to navigate inclines and declines, allowing for efficient transportation of materials across varying terrains.
How do conveyor belt systems contribute to environmental sustainability?
Conveyor belt systems reduce the reliance on heavy-duty vehicles, leading to lower fuel consumption and greenhouse gas emissions. They promote energy efficiency and minimize the carbon footprint of mining operations.
Are there any safety considerations when operating conveyor belt systems?
Safety is paramount when operating conveyor belt systems. Adequate training, regular inspections, and the implementation of safety features are crucial to prevent accidents and ensure worker well-being.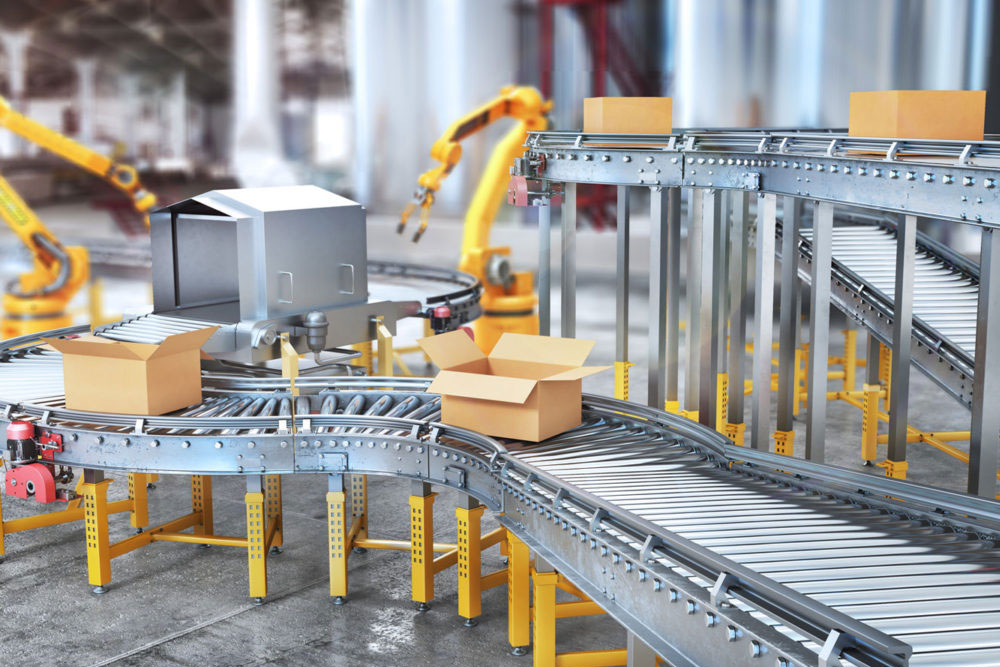 Since 1996, Sharp Engineering has become one of the most trusted and quality-driven manufacturers, exporters and suppliers of Packaging Machines, Material Handling Equipment, Belt Conveyors, Chain Conveyors, and Roller Conveyors.
Add Your Heading Text Here
Market Area of Sharp Engineering
Add Your Heading Text Here
Sharp Engineering supplying to these Indian Cities.
Mumbai| Pune |Ahmedabad| Bengaluru| Chennai| Delhi| Kolkata| Hyderabad| Agra| Ajmer| Aligarh| Amravati| Amritsar| Asansol| Aurangabad| Bareilly| Belgaum| Bhavnagar| Bhiwandi| Bhopal| Bhubaneswar| Bikaner| Bilaspur| Bokaro Steel City| Chandigarh| Coimbatore| Cuttack| Dehradun| Dhanbad| Bhilai| Durgapur| Erode| Faridabad| Firozabad| Ghaziabad| Gorakhpur| Gulbarga| Guntur| Gwalior| Gurugram| Guwahati| Hamirpur| Hubli–Dharwad| Indore| Jabalpur| Jaipur| Jalandhar| Jalgaon| Jammu| Jamnagar| Jamshedpur| Jhansi| Jodhpur| Kakinada| Kannur| Kanpur| Karnal| Kochi| Kolhapur| Kollam| Kozhikode| Kurnool| Ludhiana| Lucknow| Madurai| Malappuram| Mathura| Mangalore| Meerut| Moradabad| Mysore| Nagpur| Nanded| Nashik| Nellore| Noida| Patna| Puducherry| Purulia| Prayagraj| Raipur| Rajkot| Rajamahendravaram| Ranchi| Rourkela| Ratlam| Salem| Sangli| Shimla| Siliguri| Solapur| Srinagar| Surat| Thanjavur| Thiruvananthapuram| Thrissur| Tiruchirappalli| Tirunelveli| Tiruvannamalai| Ujjain| Vijayapura| Vadodara| Varanasi| Vasai-Virar City| Vijayawada| Visakhapatnam| Vellore| Warangal
Sharp Engineering supplying to these locations across the world :
African Countries
South Africa , Nigeria, Kenya, Ghana, Ethiopia, Tanzania, Johannesburg, Algeria, Angola, Benin, Botswana, Burkina Faso, Burundi, Cabo Verde, Cameroon, Central African Republic (CAR), Chad, Comoros, Democratic Republic of the Congo, Côte d'Ivoire, Djibouti, Egypt, Equatorial Guinea, Eritrea, Gabon, Gambia, Guinea, Guinea-Bissau, Lesotho, Liberia, Libya, Madagascar, Malawi, Mali, Mauritania, Mauritius, Morocco, Mozambique, Namibia, Nigeria, Rwanda, Sao Tome and Principe, Senegal, Seychelles, Sierra Leone, Somalia, South Sudan, Sudan, Swaziland, Togo, Tunisia, Uganda, Zambia, Zimbabwe.
Gulf and other Countries
Oman, Qatar, Kuwait, Saudi Arabia, Dubai, Bahrain, Iran, United Arab Emirates, Australia, Sydney, Queensland, Melbourne, Perth, Adelaide, New Zealand, Auckland, Wellington, Hamilton.
Asian Countries
Afghanistan, Armenia, Azerbaijan, Bahrain, Bangladesh, Bhutan, Brunei, Cambodia, China, Cyprus, Georgia, India, Indonesia, Iran, Iraq, Israel, Japan, Jordan, Kazakhstan, Kuwait, Kyrgyzstan, Laos, Lebanon, Malaysia, Maldives, Mongolia, Myanmar (Burma), Nepal, North Korea, Oman, Pakistan, Palestine, Philippines, Qatar, Russia, Saudi Arabia, Singapore, South Korea, Sri Lanka, Syria, Taiwan, Tajikistan, Thailand, Timor-Leste, Turkey, Turkmenistan, Uzbekistan, Vietnam, Yemen
South American Countries
Argentina, Ecuador, Suriname, Bolivia, Brazil, Guyana, Uruguay, Chile, Colombia, Paraguay, Peru, Venezuela
Note: Please note that the information on this document is for illustration purposes only as information may vary with individual products, their grade and applications industries or uses and therefore cannot be guaranteed as accurate. © Copyright 2021 © Sharp Engineering All Rights Reserved (Terms of Use). Recreation of any materials from the site is strictly prohibited without permission. Sharp Engineering' products are sold exclusively through Sharp Engineering' website. Use Terms | Privacy. Please contact us to discuss precise product specifications and requirements and obtain advice on which products are required to suit your exact application needs [email protected]