Overhead Travelling Crane
Sharp Engineering manufacturing and exporting high quality Overhead Travelling Crane worldwide.
Sharp Engineering – one of the leading manufacturers and suppliers of Overhead Travelling Cranes in Mumbai, India. Sharp Engineering is India's renowned Industrial Overhead Travelling Cranes exporter.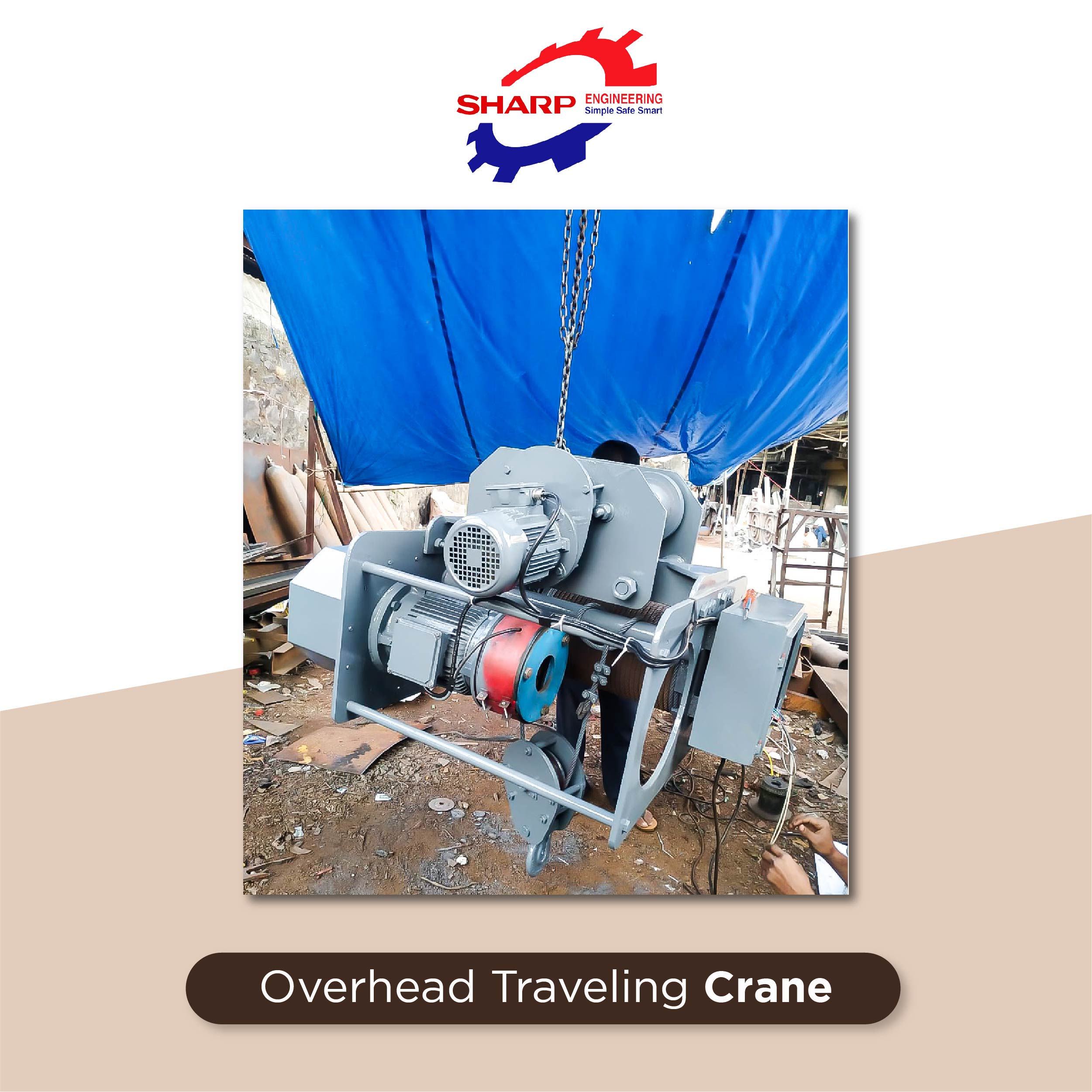 Order the products your company requires,
Contact Sharp Engineering at
For more information on any of our high quality products and Get Quotes within hours.
Overhead Travelling Crane Supplier
Overhead Travelling Cranes are a common type of overhead crane, also called bridge cranes consisting of parallel runways, with a traveling bridge spanning the gap. EOT cranes are specifically powered by electricity. Overhead Travelling Cranes are operated electrically, there is an operator cabin or a control pendant/radio remote which can be moved in three different directions i.e. up-down, left-right and forward-backward.
Overhead Travelling Cranes are girder cranes, modular in construction using standard wire rope hoists. Overhead Travelling Cranes' designing of the crane also allows easy access in all directions. Overhead Travelling Cranes are known for their durability, high performance, and thus allow a safe & efficient lifting of the heavy material load in places like factories, workshops and warehouses. EOT Cranes are able to carry heavy objects to any place needed on the factory floor, and can also be used for lifting. 
Advantages / Features of Overhead Travelling Crane
Lightweight and compact construction minimizing building loads and space saving,

Suitable for Light and Medium duty workshop applications.

Compact and lightweight festoon cable system.

Modular design with Fully machined end trucks & main body.

Optimized and compact design to provide more working space.

Smoothened jerk less operations VFD and overload weight tripping facility

All motors are TEFC with class F insulation.

Heavy duty cast steel rope guide.

Additional Counter weight operated over hoist limit switch as option.

VVVF drives are available as an option.

Upper and Lower hook travel limit switches.

Pendent and Radio remote control operation.
Sharp Engineering is one of the leading manufacturers, suppliers, and exporters of Overhead Travelling Cranes in India. These machines are manufactured from high-quality materials sourced from trusted and reliable vendors. Overhead Travelling Cranes are manufactured at our premises using quality tested components in compliance with Industry Quality Standards.
Specifications of Overhead Travelling Crane
For Technical Parameters / Specifications, please Download Technical PDF
Applications of Overhead Travelling Crane
Overhead Travelling Cranes are material handling equipment extensively used in the engineering industry for handling light/ medium/ heavy loads depending upon industrial requirements for lifting and shifting of loads, vehicle loading and unloading. Overhead Travelling Cranes find applications in numerous industries like warehouses and industry, industrial shades, Logistics, Shipyard and Constructions Process Cranes as in Steel, Automotive Assemblies, Chemical, Dairy Industries, Boiler, Food Processing, Power Plant, Foundries, Ceramic industries, Transport Industry, Construction Industry, Textile Industry, Steel Plant, Cement Industry, Chemical Industries, and Petrochemical Industry, etc.
Search for Tags : overhead crane manufacturers, eot crane manufacturers, top 10 eot crane manufacturers, best eot crane manufacturer, 10 ton overhead crane price, 5 ton overhead crane price, double girder eot crane, overhead crane 1 ton price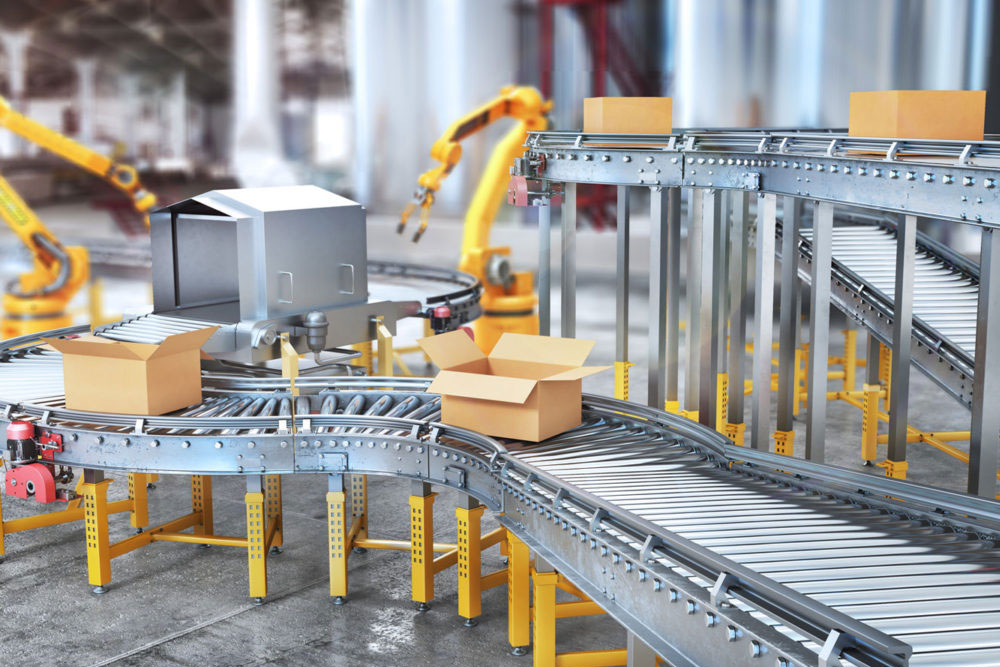 Since 1996, Sharp Engineering has become one of the most trusted and quality-driven manufacturers, exporters and suppliers of Packaging Machines, Material Handling Equipment, Belt Conveyors, Chain Conveyors, and Roller Conveyors.
At Sharp Engineering, we are well-equipped with technology to design superior performance Overhead Travelling Crane and are renowned in designing the best customized version to meet specific criteria and are with industry-leading engineers who provide you excellence with innovation. Sharp Engineering' success is based on extensive product range, top-notch engineering, more than 25 years' experience, and guarantee of after-sales service and consultation support.
Market Area of Sharp Engineering
Sharp Engineering manufacturing and exporting high quality Overhead Travelling Crane worldwide.
Sharp Engineering supplying to these Indian Cities.
Mumbai| Pune |Ahmedabad| Bengaluru| Chennai| Delhi| Kolkata| Hyderabad| Agra| Ajmer| Aligarh| Amravati| Amritsar| Asansol| Aurangabad| Bareilly| Belgaum| Bhavnagar| Bhiwandi| Bhopal| Bhubaneswar| Bikaner| Bilaspur| Bokaro Steel City| Chandigarh| Coimbatore| Cuttack| Dehradun| Dhanbad| Bhilai| Durgapur| Erode| Faridabad| Firozabad| Ghaziabad| Gorakhpur| Gulbarga| Guntur| Gwalior| Gurugram| Guwahati| Hamirpur| Hubli–Dharwad| Indore| Jabalpur| Jaipur| Jalandhar| Jalgaon| Jammu| Jamnagar| Jamshedpur| Jhansi| Jodhpur| Kakinada| Kannur| Kanpur| Karnal| Kochi| Kolhapur| Kollam| Kozhikode| Kurnool| Ludhiana| Lucknow| Madurai| Malappuram| Mathura| Mangalore| Meerut| Moradabad| Mysore| Nagpur| Nanded| Nashik| Nellore| Noida| Patna| Puducherry| Purulia| Prayagraj| Raipur| Rajkot| Rajamahendravaram| Ranchi| Rourkela| Ratlam| Salem| Sangli| Shimla| Siliguri| Solapur| Srinagar| Surat| Thanjavur| Thiruvananthapuram| Thrissur| Tiruchirappalli| Tirunelveli| Tiruvannamalai| Ujjain| Vijayapura| Vadodara| Varanasi| Vasai-Virar City| Vijayawada| Visakhapatnam| Vellore| Warangal
Sharp Engineering supplying to these locations across the world :
African Countries
South Africa , Nigeria, Kenya, Ghana, Ethiopia, Tanzania, Johannesburg, Algeria, Angola, Benin, Botswana, Burkina Faso, Burundi, Cabo Verde, Cameroon, Central African Republic (CAR), Chad, Comoros, Democratic Republic of the Congo, Côte d'Ivoire, Djibouti, Egypt, Equatorial Guinea, Eritrea, Gabon, Gambia, Guinea, Guinea-Bissau, Lesotho, Liberia, Libya, Madagascar, Malawi, Mali, Mauritania, Mauritius, Morocco, Mozambique, Namibia, Nigeria, Rwanda, Sao Tome and Principe, Senegal, Seychelles, Sierra Leone, Somalia, South Sudan, Sudan, Swaziland, Togo, Tunisia, Uganda, Zambia, Zimbabwe.
Gulf and other Countries
Oman, Qatar, Kuwait, Saudi Arabia, Dubai, Bahrain, Iran, United Arab Emirates, Australia, Sydney, Queensland, Melbourne, Perth, Adelaide, New Zealand, Auckland, Wellington, Hamilton.
Asian Countries
Afghanistan, Armenia, Azerbaijan, Bahrain, Bangladesh, Bhutan, Brunei, Cambodia, China, Cyprus, Georgia, India, Indonesia, Iran, Iraq, Israel, Japan, Jordan, Kazakhstan, Kuwait, Kyrgyzstan, Laos, Lebanon, Malaysia, Maldives, Mongolia, Myanmar (Burma), Nepal, North Korea, Oman, Pakistan, Palestine, Philippines, Qatar, Russia, Saudi Arabia, Singapore, South Korea, Sri Lanka, Syria, Taiwan, Tajikistan, Thailand, Timor-Leste, Turkey, Turkmenistan, Uzbekistan, Vietnam, Yemen
South American Countries
Argentina, Ecuador, Suriname, Bolivia, Brazil, Guyana, Uruguay, Chile, Colombia, Paraguay, Peru, Venezuela
Note: Please note that the information on this document is for illustration purposes only as information may vary with individual products, their grade and applications industries or uses and therefore cannot be guaranteed as accurate. © Copyright 2021 © Sharp Engineering All Rights Reserved (Terms of Use). Recreation of any materials from the site is strictly prohibited without permission. Sharp Engineering' products are sold exclusively through Sharp Engineering' website. Use Terms | Privacy. Please contact us to discuss precise product specifications and requirements and obtain advice on which products are required to suit your exact application needs [email protected]