Sharp Engineering offers Powered Roller Conveyor which are electrically controlled roller conveyor which provides you flexibility in layout and appropriate material transportation. Powered Roller Conveyor are manufactured for transporting a varied types of polybags, crates, boxes, and pallets. Powered Roller Conveyor is used in every stage of your product flow, transport, processing, packaging, etc. with further options in modifications as required. System consists of supply of pre-assembled free-rollers and driven roller conveyors made of stainless steel. 
Powered Roller Conveyor due to their flexibility and applications are used predominately in logistics and manufacturing, and numerous other industries like Packaging, Food handling, Mail delivery services, Logistics, Baggage handling, Manufacturing and design, and Steelmaking, etc. 
Sharp Engineering – one of the leading manufacturers and suppliers of Powered Roller Conveyor in Mumbai, India. At Sharp Engineering, we provide a wide range of Powered Roller Conveyor like Powered Chain Roller Conveyor, Powered Belt Roller Conveyor, Powered Motorized Roller Conveyor, Expandable Powered Roller Conveyor.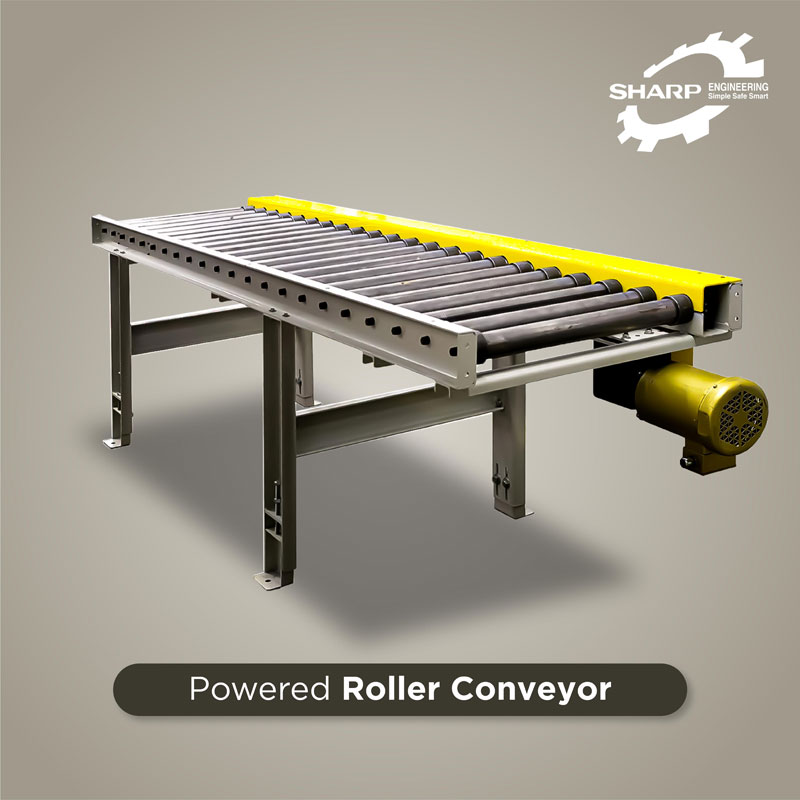 Types of Powered Roller Conveyor offered by Sharp Engineering
Note: Please note that the information on this document is for illustration purposes only as information may vary with individual products, their grade and applications industries or uses and therefore cannot be guaranteed as accurate. © Copyright 2021 © Sharp Engineering All Rights Reserved (Terms of Use). Recreation of any materials from the site is strictly prohibited without permission. Sharp Engineering' products are sold exclusively through Sharp Engineering' website. Use Terms | Privacy. Please contact us to discuss precise product specifications and requirements and obtain advice on which products are required to suit your exact application needs [email protected]