Sharp Engineering offers Vertical Conveyor which is a material handling conveyor used to lift objects from one floor level to another vertically within the same building. Vertical Conveyor can be used to lift trays, packages, containers, boxes, bags, pallets, etc. are quickly lifted at an appropriate height through vertical lift conveyor systems. Vertical Conveyor can be customized to lifting heights as per required and the drive elements & structural construction for any required load.
Vertical Conveyor are widely used to elevate boxes, trays, packages, bags, luggage, lower containers, sacks, and other articles. Vertical Conveyor due to their flexibility and applications are used predominately in logistics and manufacturing, and numerous other industries like packaging, food handling, mail delivery services, logistics, baggage handling, manufacturing and design, and steelmaking, etc.
Sharp Engineering – one of the leading manufacturers and suppliers of Vertical Conveyor in Mumbai, India. At Sharp Engineering, we provide a wide range of Vertical Conveyor like Spiral Conveyor, Vertical Conveyor, Vertical Z Conveyor.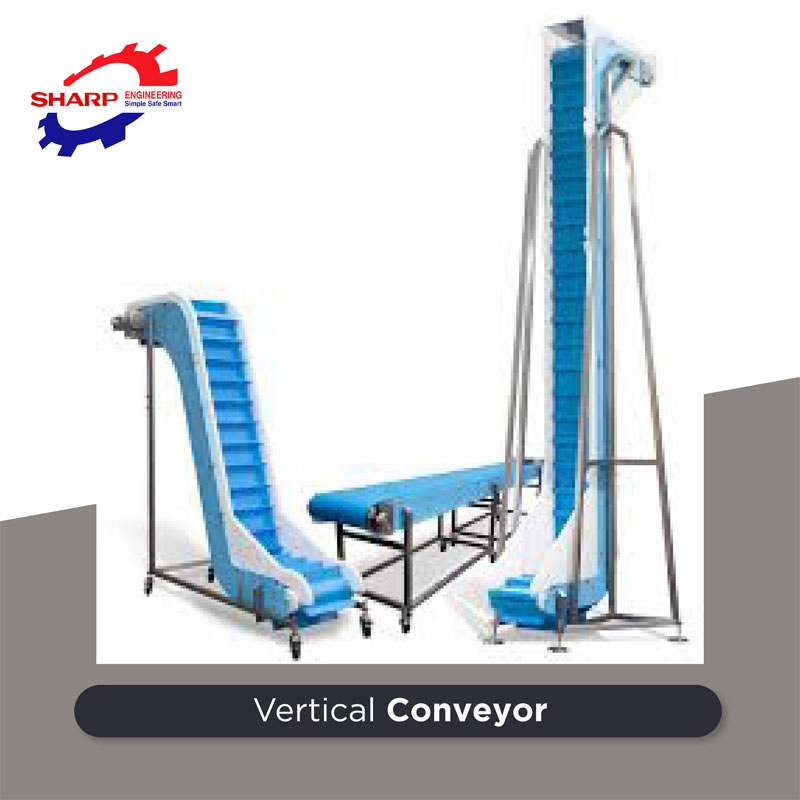 Types of Vertical Conveyor offered by Sharp Engineering
Note: Please note that the information on this document is for illustration purposes only as information may vary with individual products, their grade and applications industries or uses and therefore cannot be guaranteed as accurate. © Copyright 2021 © Sharp Engineering All Rights Reserved (Terms of Use). Recreation of any materials from the site is strictly prohibited without permission. Sharp Engineering' products are sold exclusively through Sharp Engineering' website. Use Terms | Privacy. Please contact us to discuss precise product specifications and requirements and obtain advice on which products are required to suit your exact application needs [email protected]